(D. Birth: 09/12/00. Sire: "Heavenguard´s Valloh". Dam. "Ambar")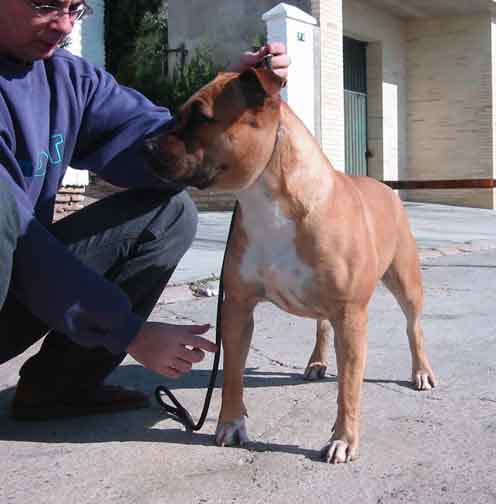 (2 years old in the pics)
"Nezca" is our girl-star. She is full of show prospect. With only 6 months, she wins B.O.B (entries 4) and 2nd of group 3 in the 9th "Archidona´s show dog". She has outstanding and strong temperament, intense drive, good bone and the most beautiful head we ever seen in a bitch. She is a little great girl.
Sadly, she had an accident in january 2002 and had to go to the surgery. This year 2002, she doesn´t go to any show, so y hope she returns this year bacause she´s totally recovered.
SEE PUPPIES PAGE!!!!! SHE WILL BE MUM SOON.......


owner: Fuzzynating kennels
(D. Birth: 11/10/98. Sire: multiCH. "Yankee´s Barkley". Dam:"Heavenguard´s Victory".20,5", 66lbs)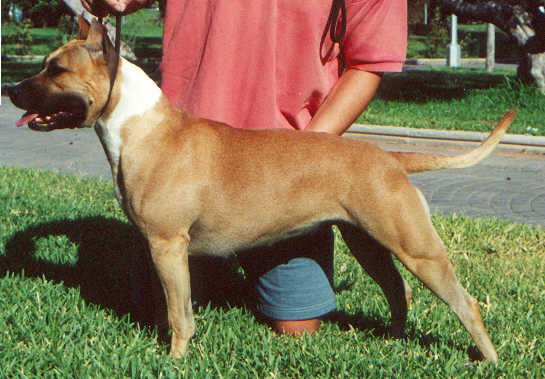 "Ambar" is a beautiful orange-red female, with black mask, excellent movement and substance. Their character is very strong against other dogs however she´s lovely and confident with people. Her favorite game is to play hard with other dogs equal or more potent than she.
"Ambar" is daughter of the multiChampion "Yankee´s Barkley" and "Heavenguard´s Victory". "Victory" belongs to the possibly best litter born in Spain: the "V" litter from "Heavenguard" kennel. To this litter
belongs Ch. "Venus" (World, Spanish, Club Champion), Ch. "Vamp" (European, Italian, Spanish, International, Club Champion...), Ch. "V-Fighter" (Andalusien Ch.), "Vivian" (Excellent female) and "Vulkan" (multiple C.A.C. and group winner). Her father is Ch."Yankee´s Barkley" who is the most honored dog in Spain, and one of the best in Europe. It´s a pure "Benmar´s" line male, and his achievements are: World Champion (Junior), European Ch., Spanish Champion, Portugal Champion, Spanish Club Champion and international Ch., Golden AMSTAFF in Europe 1995, 3 x B.I.S., 7 x B.O.G., 52 x B.O.B. He already is father of 8 Champions.
"Ambar" is not a future champion, nevertheless her results are quite interesting:
BADAJOZ´1999: M.B. 1ª B.O.B., B.O.G. (Puppies Class) judges: H. Van Den Bergh (Holland)
J. Perry (Hong-Kong)
JEREZ´1999: M.B. 2ª (Juinor Class) judge: M. Fakahazi (Hungary)
VELEZ´1999: EXC 2ª (J.C.) judge: A. Hauncher (Spain)
ZAFRA´1999: EXC. 1ª (J.C.) judge: E. Capra (Italy)
SEVILLA´2000: EXC. 3ª (J.C.) judge: D. Messeger (Spain)
MALAGA´2000: EXC. 4ª (J.C.) judge: W. Hubenthal (Norway)
BADAJOZ´2000: EXC. 1ª (Open Class) judge: M. Guidetti (Italy)
GIBRALTAR´2000: EXC. s/c (O.C.) judge: G. Rademaker (Holland)
JEREZ´2000: EXC. 2ª R.C.A.C.(O.C.) judge: G. Alessandra (Italy)

owner: Vallowen kennels
(D.Birth: 06/16/98. Sire Ch."Ngorong-Ngorong´s Red Bull". Dam: "Can Harra´s Ex-Gehary". 20", 63lbs)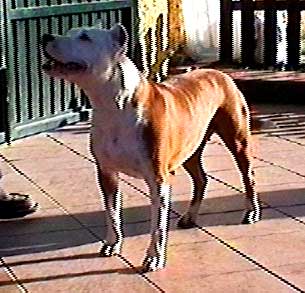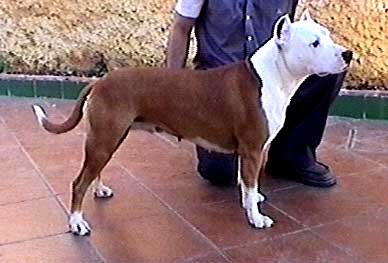 "Wemba" is the oldest girl of our gang.She has a marvellous temperament, she is very playful and outgoing.
Her sire is multiCh. "Ngorong-Ngorong´s Red Bull"and her dam "Can-Harra´s Ex-Gehary". "Red" is Spanish, Portuguese, international, Italian, Polish and C.E.T. Is the most honoured dog ever born in Spain. "Ex-Gehary" is a beautiful female of wood-Ruffian lines.
"Wemba" is a show quality bitch, but her poor pigmentation has cut a great career in the showring:
MALAGA´1999: Very Good 1ª (puppy class)
JEREZ´1999: EXC 1ª (Junior Class) judge: Mr. M. Fakahazy (Hungary)
ZAFRA´1999: EXC 2ª (J.C.) judge: Mr. E. Capra (Italy)